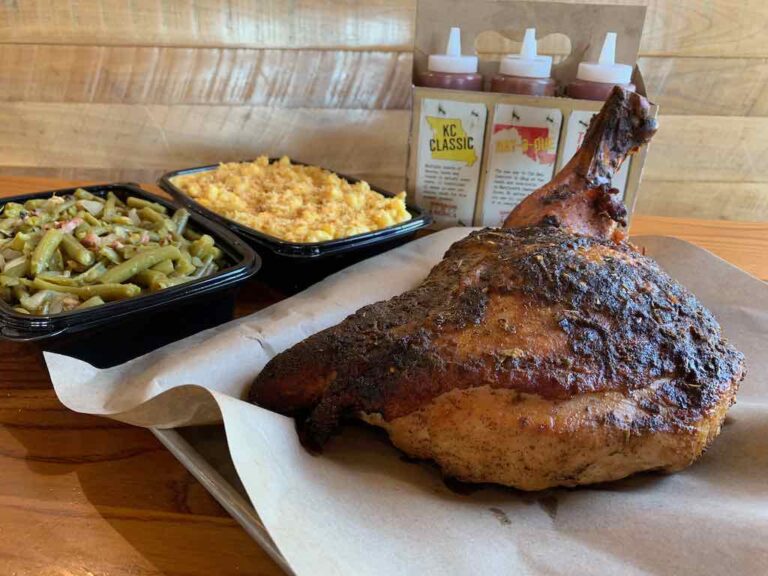 A Family Feast for Your Table
Here's something else to be thankful for this year. We'll do the cooking so you can spend more time with family on Thanksgiving! Instead of thawing, roasting, basting and worrying about getting that bird just right, MISSION BBQ will slow-smoke a big, juicy boneless turkey breast to flavorful perfection. Plus, throw in an extra drumstick – that you can save for yourself. We won't tell!
And you know all those great sides everyone loves that take hours to mash, slice, dice and bake? We got you covered there too. Just take your pick from crowd-pleasing Granny's Sweet Potato Mash, Baked Cheesy Potatoes, ever popular Green Beans & Bacon and more.
Start planning your holiday menu today. Call or bring your order form to your local MISSION BBQ.
Ready-to-Serve Smoked Turkey Breast & Drumstick, feeds 12-15 people for only $83
Homemade Sides by the quart, feeds 6 people, starting at just $12.04.
Supplies are limited. Order your Holiday Turkey by Saturday, November 18, 2023.
For the freshest bird, right out of the smoker, please arrange for a pickup time with your local restaurant. Please pick up all orders by 3 pm on Wednesday, November 22.
Our Thanksgiving Holiday Hours are:
Closing at 4 pm on Wednesday, November 22
Closed on Thursday, November 23.